The EIT Digital Master School at Politecnico di Milano is a European double master's degree programme in Computer Science and Engineering in collaboration between the best technical universities, supported by research institutes and leading business organisations. The Master School offers specific study tracks which combine technical competence with skills in Innovation and Entrepreneurship. We aim at educating computer engineers to become digital transformers and innovators for European economic growth and improved quality of life.
By joining EIT Digital Master School, you are not just starting a master's degree programme, you are stepping into a leading European open innovation organisation that brings together a partnership of over 200 top European corporations, SMEs, start-ups, universities and research institutes. Our students have the opportunity to collaborate with EIT Digital's industrial partners and bring innovation to the market as part of their Innovation and Entrepreneurship studies. You will gain first-hand experience through the innovation activities hosted, managed and financed by EIT Digital, focusing on Europe´s strategic areas for Digital Transformation.
You can choose the study track that best suits your career aspirations and intellectual interests. Each one is designed to address the most innovative and industry-relevant fields, from advanced interactive technologies to artificial intelligence and data science applications in key emerging sectors.
You attend the first year at Politecnico di Milano (entry university) and the second year at another University in Europe (exit university), chosen during your EIT Digital application. In 2 years and with 120 credits, the programme leads to a double degree (a specific master's degree from each of the two universities attended) and to the EIT certificate, issued by the European Institute of Innovation and Technology, which summarises the specific characteristics of this advanced-level education.
Unique features of the EIT Digital Programme
Top Technical Universities
Strong integration of technical education in Europe's premier universities with a business oriented strand for entrepreneurial education
Education, Research and Business Integration
An overarching network through EIT Digital business partners, companies and research institutes to help students accelerate their innovation development
Pan-European Community
A true sense of community and inclusion for a network of trust which brings together students, teachers, researchers and dedicated staff across universities as a unique distributed educational network at European level
International Mobility
Flexible combination of organizational and geographical mobility across our pan-European ecosystem to expand students' network and enhance learning opportunities in constant dialogue with business and industrial partners
Team Building
Team-building events for all the EIT students in the form of "School and Camp" at European level (i.e. Kick-Off event, I&E Summer Schools, Graduation Day) and global Alumni network
Scholarships
A merit-based scholarship programme to attract and sustain the best talent worldwide, always granting total exemption from the local university taxes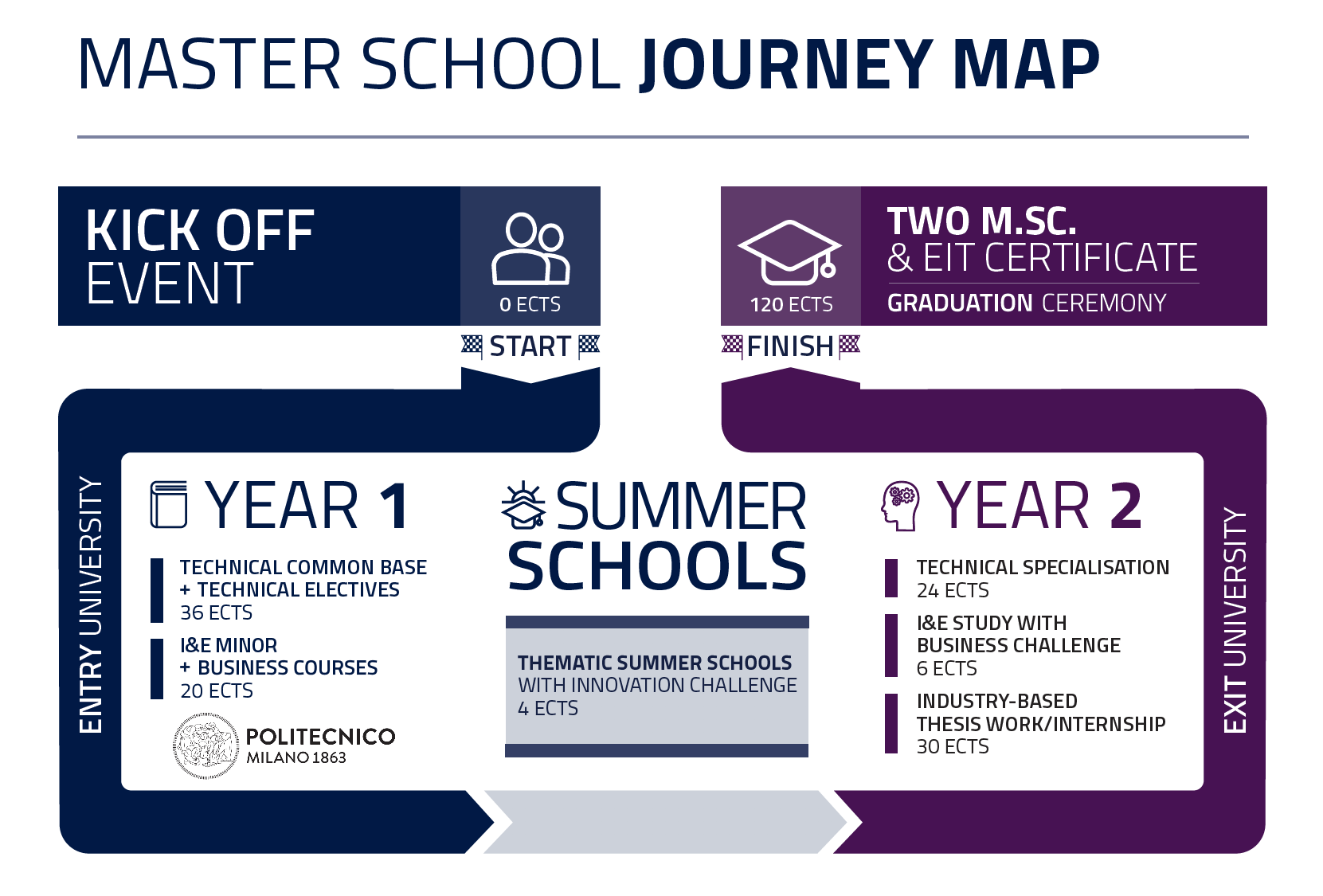 First year at Politecnico di Milano
The first year consists of a set of core courses, which provide an introduction to the study field and cover the main topics of the technical major. There is also a portfolio of elective courses which may be taken as a preparation for the second year specialisation. All the technical majors (Data Science, Human-Computer Interaction and Design, Fintech) are complemented by a minor in Innovation & Entrepreneurship, which is in common and embedded in all the EIT Digital study tracks, offering an ideal combination of technology and business.
Innovation & Entrepreneurship Summer School
In between the first and second year, students attend a 2-week Summer School, organised along with different innovation focus areas of EIT Digital, with strong participation from the side of the industry. Different Summer Schools take place at various locations throughout Europe, supporting a multidisciplinary and international dimension, to stimulate the entrepreneurial mindset and provide an application context for digital business development. This gamut of experiences and exposure to cultural differences will also help students succeed in becoming leaders in global markets.
Second year abroad, Internship and Master Thesis
In the second year, students attend a cutting-edge specialisation at one of the other partner universities in Europe (exit university). In the end, all the second-year exams taken abroad are transferred and recognised into students' Polimi career. At the exit university, students undertake the thesis project which may be carried out during an internship in a company or a research centre chosen by the student. The internship experience will help gain non-academic skills by exposure to diverse working practice and contexts. The minimum length of the internship should be three months, combined with the thesis work typically during the 2nd semester of the second year.
The master thesis shall be performed according to the rules and regulations of the exit university, but it needs to fulfil the rules of Politecnico di Milano as well. After graduating at the Exit University and obtaining their Master's Degree, students are supposed to present their thesis also at Polimi, in one of the official graduation sessions, in order to obtain the Master's Degree from our side too (namely, the Laurea Magistrale in Computer Science and Engineering).